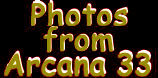 Photos from Arcana 37 (October 12-14, 2007) with guest of honor George Clayton Johnson (The Twilight Zone, Star Trek, Ocean's 11, Kung Fu, Logan's Run, 1998 story collection "All of Us Are Dying" etc.)

Arcana 2007 T-Shirt

Arcana 37 T-Shirt
2007 Minnesota Fantasy Award winner, David Lenander. He's moderated the fantasy book-discussion
Rivendell Group since late 1973 or early 1974. He also Chaired
Mythcon 24, Chaired a couple of Bree Moots (small fantasy cons),
worked on the Minnesota Science Fiction Society Lecture Series back in
the '80s, has done panels and discussions at Minicon, WisCon, Diversicon,
MarsCon, and Arcana, and published poems and critical essays in the
fantasy genre. He also maintains Websites for several fantasy and
science fiction writers.
Comments on this site: arcanacon@comcast.net or audfellow@gmail.com